Fiction





In the Inaka
Aaron Paulson
High water undercut the opposite bank, which opened into a clearing where blue and red and yellow insects whirred through sunbeams, and more bamboo. Butterflies. Dragonflies long as knives. From the river's edge, a trail ran back into the bamboo, and the spindly trees beyond... A scene out of a movie, Sailor thought. That samurai one, where the woman gets kidnapped by bandits.

Cecilia's Rosary
David Quinn
"If you go somewhere in the wheelchair and want them to put you back in your bed again, most of the time, it takes forever," Cecilia began slowly and then, with the glee of a child putting something over on her parents -- "So you park your wheelchair sideways in the middle of the hallway, set the brake, and then assume the position."

Someday Morning
Michael Cocchiarale
On that someday morning, forearms bumping in the brown leafy breeze, youíll stand engrossed, not quite knowing what youíre looking at until, through some inexplicable science of the mind, youíre in the middle of our now classic text, savoring the words that stand in now for sights and smells and tastes...and for all the splendid arrhythmias of our early love.

Magic Man
Jamieson Wolf Villeneuve
"Here it is: everything in the world is magic. That there is the most important piece of information that youíll ever hear. Everything in the world is magic. Say it."

---





Rockin' Robin
Carol Papenhausen
The eighteen-year-old with the mop of hair under his cap lifted his head slowly, and his hands dropped. He stared at Danny and then he grinned. The sharp teeth were a little more pointed than Robinís, but it was his smile, and Wynn felt the shiver run all the way along his spine.

On Cancelling Japan
Jeff Beresford-Howe
And, as Ichiro pointed out, Japan -- a country which essentially has no Muslim population or immigration at all, and which hasn't invaded anybody, Muslim or otherwise, for sixty years -- is, if anything, safer than the United States.

---

Incantatrix
art by Joel Nethery



---

All material in Slow Trains is copyrighted to the original authors and may not be reproduced without permission. Violators will be prosecuted.
Essays
Rave On
June 2, 2003



Welcome to Slow Trains, where the postcards never stop.
---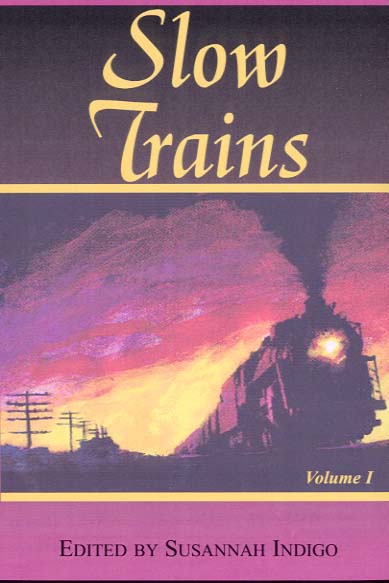 Volume I in print & Best Online Journals, guest-edited by Pam Houston
---
Djamming
David A. Taylor
Gould has flown in from San Francisco just for this event, a cult rite known as the Django Festival...The politically correct term may be 'Romani,' but for Gould and everyone else in Birdland tonight, it's called gypsy jazz.
Splitting: Planned Improvisations
by Robert Gibbons
Lots of sheet music around the house as a kid, my family straight out of Vaudeville, but when my father, son of a grand Tin-Pan-Alley pianist tries to teach me even "Chopsticks" fingers fail, so I take the drive to pound the keys, here, letters like notes & snowflakes, which is all there is, music & oppression, the great Irish interpretation of family life.

sophistication pales

against

the rhythm

of slow trains


Music Reviews
Jeff Beresford-Howe
Galban is less traditional than previous Cuban Cooder collaborators, and the result is an album that hews to traditional Cuban song structures but sounds like it was recorded by an American rock band with ungodly talent.
---
Writers on
the Creative Life
featuring Michael Gruber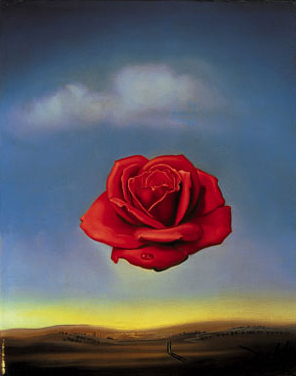 As of a result of this education, I was put off writing any fiction at all for twenty-five or so years, and I am still somewhat embarrassed that I don't get the whole modernist deal. The novel is dead, as we all know, but I still feel compelled to write enjoyable corpses.
---
Hiding From Salesmen
Scott Poole



The way the woman on the phone slowly says Multiple Sclerosis Society with a gorgeous southern whiskey drawl of long porches drenched in bougainvillea and lemonade slow blues and torpid birds lazy in long notes, I feel I must have some sort of sclerosis myself.
Poetry





It Snows a Bit Differently in New York City
Robert Gibbons
It snows a bit differently in New York City / a kind of reluctance, a little lost / not knowing where itíll end up

Ritalin
Hitting on Buddha
Melanie Burke Zetzer
You are a ship / trapped in a medicine bottle / Your sails will never catch the wind under glass

Life as a Raindrop
Memory of Love Making
Matthew Gleckman
At last they came to the old manís / final wish of ashes scattered over a local pond

Of Cuckolds and Crucifixions
Pump Your Own Gas
Laura McCullough
Cirque Du Soleil canít conceive of something as everlasting / as a virgin who got laid / but didnít get any of the fun / setting up 2000 years / of female sexual guilt



Everything Blue
Tracy C. Alston
Like one goes down to the River Nile / To rest and feast awhile / Like when you dance and go down / All the way down 'til you touch the ground

Mimics in the Mist
Richard Denner
Mimics brush by / in white face and tattered tux / I turn, they turn, my turn, their turn / doubles hide in every word



Ice Princess
Joanne Detore-Nakamura
From Third Ave to Palmer Street / It's a blur, a montage of Risky Business meets Blue Lagoon / a fade-out into a tropical island

Snow White and the Seventh Dwarf
se solamente ti ripenso
Arlene Ang
you scrounged dead mines / taking dirt for diamonds / until you wised up / turned Huntsman / decided to set me free

Aubade
In Memoriam
Dorothy Bates
I wake to the sound / of rain / doing a Fred Astaire / on the roof



Slumming
Songs of the City
P.J. Nights
But itís his voice, that smooth chocolate slide / of trombone asking, do you have the time? waiting for the change
Window Disturbances
jj goss
I see your breath / like smoke Iím smoldering / in the ashtray lingering / between your fingers / hidden underneath your / ordinary thoughts Tail Lights
Big Sky
Stacie Barry
There were nights / beneath the moon / when the darkness / lifted her skirt / and danced around the fire

---

Send comments to: editor@slowtrains.com