About Slow Trains





"Slow Trains is a literary journal through which the presence of music can be felt throughout the work they publish, whether or not the content of the piece is overtly about music...Slow Trains' realization of the rhythm, structure, lyricism, and tone both in music and in writing is refreshing." --reviewer, LitSource

Slow Trains exists as a celebration of great writing, with an emphasis on fiction, essays, and poetry that reflect the spirit of adventure, the exploration of the soul, the energies of imagination, and the experience of Big Fun. Music, travel, sex, humor, love, loss, art, spirituality, childhood/coming of age, baseball, and dreams -- these are a few of our favorite things -- but most of all we are here to share the ideas, the memories, and the visions that our writers are most passionate about.

Slow Trains is published quarterly near the seasonal changes (approximately March, June, September, and December), with the Slow Trains blog, Rave On: Postcards from Slow Trains updated on a regular basis.

Slow Trains is honored to have fiction included in the "Best of the Web" award anthology, E2Ink-1, guest edited by Pam Houston, and also to be listed as a recommended fiction resource in The Best American Short Stories. Slow Trains regularly submits exceptional writing to all the "Best American" book series, along with Pushcart nominations.



---
"Everybody loves the sound of a train in the distance,
everybody thinks it's true."


--Paul Simon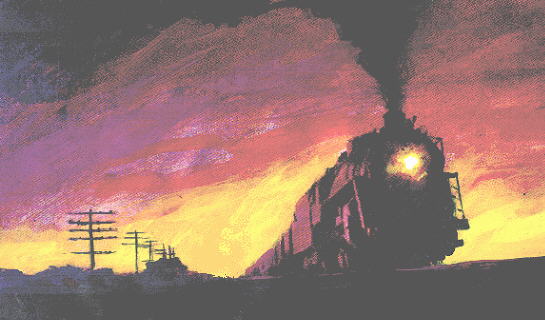 Submission Guidelines
Web design by Brian Peters
Editors: Sam Emerson, Susannah Grace Indigo, Seonaid Lennox, Brian Peters, Eric Black
Contact:editor (at) slowtrains (dot) com