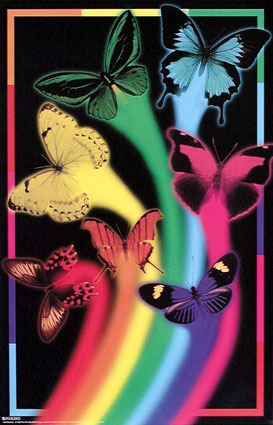 One I Wish I Could Name
In the next chapter a butterfly, one I wish I could name, black, & at just the right wingspan angle against the sun, a vibrant blue hue, lands on the silver granite. She rests. The frill of white lace, a little yellow & red at the edge proves she's a dancer, more abstract & beautiful than Sargent's El Jaleo. Her proboscis tongue licks salt off the stone. Sexy castanets serenading. Her dress flies up, black thong tugs at the long cleft between the small of her back to below belly. Toast a thimble of sherry. The desire to possess the unpossessable all dancers are. Did Nabokov kill butterflies? The inevitable arrives. She's setting out for home. Spain is a long way off. She flutters toward me, & with a quick, seductive glance behind a fan, leaps out across the vast Atlantic, the lightest ripple on the sea.


New Orleans
"There's a moon over Bourbon Street..."
I can hear Sting crooning softly in my mind's ear as I look out my large hall window at Our Lady hovering over the New Orleans nightscape. Yes, it is Sabbat. The moon is hanging pregnant. Tomorrow she is completely full.

Ah, we are quite haunted here.
You almost have to close yourself to it. It's a bit intense. You must visit sometime if you haven't already. This place is sacred, decadent, and ephemeral: in two hundred years we will be underwater. We are below sea level and sinking...a doomed Atlantis of the New World.
Tomorrow night I will go into the Quarter, head first into humid night heat, and dance drunkenly, wildly under her gaze. It is my offering to the night, to Our Lady, and to my home. Sabbat ends tomorrow after Our Lady blooms. Like our fair city, she too, will soon wane.



Denver, Colorado:
Sunrise: 5:59 a.m.


"Inspiration move me brightly
light the song with sense and color,
hold away despair "


--Hunter/Garcia
Terrapin Station

I sit at sunrise in Silo Park before I begin meditating and let the questions and the ideas and the feelings of a new day flow slowly through my mind. I face west and sit with my back to the sunrise, watching the light begin to illuminate the Rocky Mountains in the distance.
There are not many questions that truly matter in an ordinary life -- what are you most afraid of? what will you contribute to the world this day?… but today, one of my favorite questions stands out for me…What are you most excited about?

I often ask this question of teenagers that pass through my home -- what are you excited about? They tend to look at me in surprise, pause, say they don't know…but then they'll dig a little deeper, reach for the buried contemplative life of the mind, and come up with something that they are excited about, becoming momentarily a little wiser and happier for having considered the things that matter to them.

Today, I am excited that my Siberian Husky puppy can finally interpret the true meaning of stay…at least when she wants to. I am excited about learning the art of ritual drumming; excited to watch my oldest son enter his senior year in high school with confidence and optimism deep in his heart; excited that most days I can remember to slow down enough to sense the rhythm of sunrise and sunset.

But most of all, today I am excited about the launch of Slow Trains, and grateful to have the opportunity to bring out into the world some wonderful writing, ranging from the love of music to lyrical, prismatic poems. From Pamplona to Las Vegas, from baseball to Vietnam, with the humor of pigs in the bedroom and envelopes that speak, the premiere issue of Slow Trains travels into some of the most fascinating and vulnerable territories of our lives.

This Slow Trains journal, "Rave On," will be written by many correspondents from many locales, while at home, or on an adventure, and also in reflection of past and present journeys of the heart, the mind, and the body. The journal will be updated at least on a weekly basis, and often more so.

So, welcome aboard our literary adventure, and we are excited to have you here!