Patrick Carrington

---





Marching with Saints

Mother, come away from your tomatoes
and blues for once, outside
the chicken wire. Say goodbye.

You always loved your scarecrows like sons,
and your sons only when the Bushmills
and quarter notes dribbling off your chin
made you sad enough to see the house
was growing bigger. Last year痴 harvest
is still in the pantry, screwed tight.

Like my brothers, I take a jar of both
of your sauces for the road. And when
I find that special whore who makes me
hungry, high-stepping in parade
with feathers redder than your best Jerseys,

I値l pour your garden on her chest, eat
dinner off her tits. She値l cry on cue,
and we値l do shots of Irish
and let Bourbon Street lay us
dizzy on the floor with saxophones
and sleep. It値l feel just like home.




---





Cut of the Briar Rose

You want to run home, now
that alibis lose their sense.

PTA meetings don稚 run
through midnight, but
the mind-changing flavors
of our banquet, our bowls
of dessert and excess, lay
your keys back on my bed.

You pick your scarlet scalpel
from the vase, hand me
your own gift and shut your eyes
as the fine cut of the briar rose
tickles your white thighs.

The red trickle and sting
of salt as my sliding
tongue crosses and covers
the slices, feeding,
as it feeds you the nourishment
you need. You wince

as I whisper, words
moist and prescient,
shiver as I push, impaling
you and your fears
like a peach on a king痴 dagger,

royal fruit, the smoothest slip
of skin as you return your honey
to its father.

Take this night home with you.

Hang it from the lovemarks
on your neck, dangle it
from your bruised ears.

You will not care
what he thinks anymore,
when you wear me like a diamond.






©2005 by Patrick Carrington

---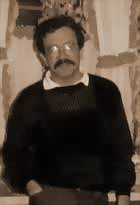 Patrick Carrington was born and raised in the boroughs of New York City. He teaches language arts and creative writing in southern New Jersey, and lives on a secluded beach with his wife. They have a son and a boatload of daughters wandering along the shoreline somewhere.
His poetry has appeared or is forthcoming in various print journals, including Confrontation Magazine, Epicenter, Lullaby Hearse, Bardsong, Clark Street Review, Wavelength, The Neovictorian/Cochlea, Devil Blossoms, Poetry Motel, and Willard & Maple, and online at Rock Salt Plum Review, The Pedestal Magazine, Slow Trains, Eclectica Magazine, Adagio Verse Quarterly, Artistry of Life, Facets Magazine, Carnelian, Word Riot, JMWW: A Quarterly Journal of Writing, Thieves Jargon, Zygote in My Coffee, and others. Later this year, he値l be appearing as the featured writer in the winter issue of the Web-based literary journal Artistry of Life.