The Slow Trains Ten

writers on the creative life
featuring Greg Wharton






Greg Wharton is the author of the collection Johnny Was and Other Tall Tales. He's the publisher of Suspect Thoughts Press, co-coordinator for Project: QueerLit, and an editor for two Web magazines, suspect thoughts: a journal of subversive writing, and Velvet Mafia. He's also the editor of numerous smutty anthologies, including The Best of the Best Meat Erotica, The Big Book of Erotic Ghost Stories, Law of Desire: Tales of Gay Male Lust and Obsession (with Ian Philips), The Love That Dare Not Speak Its Name: Essays on Queer Sexuality and Desire, Love Under Foot: An Erotic Celebration of Feet (with M. Christian), Men of Mystery: Tales of Intrigue and Suspense (with Sean Meriwether), Of the Flesh: Dangerous New Fiction, and Out of Control: Erotic Wild Rides. He lives in San Francisco with his honey Ian, a cat named Chloe, and a lot of books.

---
1. When did you start writing?
I've always been a big nerd, a bookworm, a lover of words, and have always devoured as many books as I can. I consider it the highest of art forms. But most of my life was spent just enjoying other's words while my artistic energy went in other directions. Earlier on I wouldn't have had any idea that it would become such a force in my life. I didn't seriously start focusing on my own writing until about six years ago, forcing myself to just write: to sit down and write regardless of the outcome and with regularity. And with much experimentation and forced exercise I found both enjoyment and my strengths. Now I can't imagine life without writing.
2. What is your writing routine like?
Right now, with the new collection out and many other projects and deadlines, I'm not focusing on creative writing. I still have my columns, serials, and reviews that I do each month (writing under pseudonyms for various markets), but those are easier for me to do than my creative writing. I just keep on schedule and sit down and write the little buggers. It's not that they're no-brainers, but they come more easily, more methodically, than my more personal fiction. When I'm writing my short fiction -- and this next month, hopefully, when I'm able to focus my attention back to my own work and a long-suffering novel in waiting -- it's a much different process. I have to get into a zone and let the characters or story lead me, instead of me leading them.
3. Who are some of your favorite writers, and why did you start Suspect Thoughts Press?
I'm very lucky to have seriously talented writers as part of my life, both as friends and peers. I'm continually amazed by my honey Ian's (Ian Philips -- See Dick Deconstruct, Satyriasis) ability to cross and mix genres and write funny, smart, sexy, and biting tales of satire. He honestly is one of my favorite contemporary writers. And this was even before we started sleeping together! As far as important writers who influenced me, it's quite an eclectic bunch. Richard Brautigan, Jim Thompson, and Barry Gifford, to name just a few, all made permanent scars and have heavily influenced me for better or worse. But I am always finding new inspiration. I just devoured Philip Pullman's His Dark Materials trilogy. Incredible stuff. I truly believe this to be some of the finest storytelling I've ever read. Read them now!
The online journal came first. I created it to make a home for work that others found "subversive," such as cross-genre erotic writing, which is still subversive and under-served. My first Suspect Thoughts Press book grew from this. Of the Flesh is a multi-author anthology of cross-genre sexual fiction much like the work in the journal. And the press has slowly grown from that to its present stage, where by the end of the year we'll have two multi-author anthologies, three single author collections, and two novels in print. We'll always have a spot for erotica with the press but we're also able to give home to other work that pushes boundaries, to give voice to queer and outsider voices and work that deserves to be heard.
4. Besides writing, what are you most passionate about in your life?
I have two passions in my life right now. One is our press, which takes up most of my creative energy and time. It's a lot of work, and the business has certainly been much much harder than I thought it would be, but it's worth it and deeply satisfying when each and every new book is birthed. My other passion, the one that is most important and precious over anything else, is my relationship with Ian.
5. What kind of music do you enjoy and do you find that music has an influence on your writing?
Yes, music is very influential. And like my reading, my musical tastes are crazy and eclectic. When I'm writing for pay (my "day job" columns, etc.) I don't listen to music as much for inspiration. But when I'm writing creatively (not that I don't think my other work is creative, it's just not personal) I use music to guide me, to create energy that helps the words flow. My collection's stories span several years' worth of stories, and I definitely used several specific musicians for inspiration at different points of time. I tend to fixate on one CD or artist and play it over and over, almost like a mantra or backdrop. To single one out, Lucinda Williams helped me give many of my tales in Johnny Was the aw-shucks achy-breaky bittersweet feel I was going for.
6. Where are your favorite places to travel?
Before moving here two years ago from Chicago, San Francisco was my favorite journey. I've yet to find a new destination that holds the magic this city does. We've made a few trips this year, one of them to New Orleans, which is a very interesting and fun -- though very hot and humid -- city. Ian and I do have a few mini-trips up the northwest coast, weekend sanity getaways, planned in the near future that we are both looking forward to. The West coast is incredibly beautiful and I've only begun to explore it.
7. Where do your best ideas come from, or, what creates your most inspired state?
That's a tricky question. I'm most inspired when I'm molding memories with imagination. For me, what I think works best is when a blend of fact and fiction happens in my work. Not memoir. Not intentional. And most folks wouldn't know that about my work since it's firmly planted in the world of fiction. But a hell of a lot of my characters, and conversations, and sounds and smells and little details, come from memories and real life. It's not written to represent my past, but the past is there, layered together to make a new reality, a new fiction.
8. Do you have any interesting vices that you'd care to share, and have they helped or hindered your writing?
I found that when I cut back on my drinking a few years back that my writing blossomed, so I'm not sure vices help me artistically, though I'm a huge fan of caffeine and you shouldn't ever try and stop me from a cigarette when I want one…
9. Yeats said that the only things worth writing about are sex and death -- what would your list include?
Well those are the two biggies, aren't they? I'd add love and any and all the emotions, both positive and negative. And anything to do with the senses. It's not as much what you are writing about, but how it's told. A story about a peach can be fantastic if you know what it smells and tastes like from the narrator's point of view, which can be very different from you the reader's, and know that every time he smells a peach he thinks of a past love that broke his heart, or perhaps, remembers how he met his first true love who is still by his side. A peach is not just a peach, and writing is not just about the specific subject matter but where the writer takes you with it.
10. What's next for your writing and for your publishing ventures? The press is at a wonderful level right now with four releases scheduled per year, though we are considering upping that amount in the next year or two should sales and karma continue to be on our side. I'm very excited and proud to be organizing the first Project: QueerLit contest, which focuses on first-time novelists. And I'm really looking forward to seriously focusing on my novel, and the collection of short pieces, scribbled notes and ideas, and cast of misfit characters that it is now. It will be challenging to bring it together and I'm excited about making it all come to life.





©2003 by Greg Wharton

---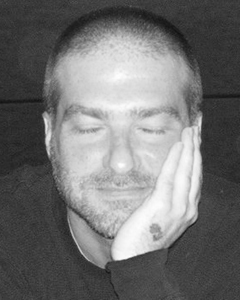 For more information about Greg Wharton, see his Web site.
---
Read Greg Wharton's coming-of-age story, Gravity in Exquisite Corpse.