Playin' Them Penn Station Rush Hour
Musical Chairs Blues

by Tony Gruenewald


Anxiously they wait
Reflexes peaked
Concentration complete

The air,
thick with
anticipation
is cut
by the flicking
departure board
unleashing
this human
tsunami

As if the ensuing
announcement
was for videos
of J-Lo's
sex life, Giuliani
bobbleheads
or some other
bauble of
a fallen humanity
and not

"The New Jersey Transit Trenton local is now receiving passengers
on track number four."






---





©2002 by Tony Gruenewald

---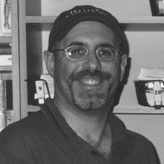 Tony Gruenewald earns his keep as an Assistant Studio Director and Communications Coordinator for the New Jersey Unit of Recording for the Blind & Dyslexic. In previous lives, he has worked in radio journalism and advertising and, if all else fails, still has his Teamsters card. His work has been seen in The New York Times, Caffeine, U.S. 1, Adbusters, The Edison Literary Review, and other mostly defunct publications.