In Memory
John Lee Hooker

1917 -- 2001

by Phillip Poff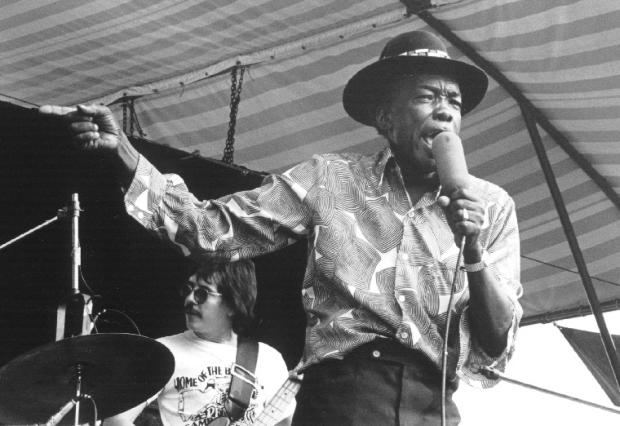 I had the unbelievable luck of owning and operating a 715 seat historical theater called the Grandin Theater from 1984 to 1986. I wanted to book John Lee Hooker from day one. I had bought his Hooker'n Heat album in 1969 when I was thirteen years old, and I wanted him to play my "house." I worked out a deal with an agent at Rosebud for a Tuesday night, March 5, 1985. Not the best night for boogie/blues in Roanoke, Virginia, but for $2,000 I had JLH on the hook.
I decided to make it a benefit for the Leukemia Society, in part because my friend, Robin Price, had recently been struck down by this killer disease. I could not sell alcohol, but a non-profit organization could. I think the Leukemia Society made around $2,200 that night, selling beer. I charged a $1.00 donation admission to get in. I figured I would rather have 715 people in for a dollar than 200 for $15.
It worked -- the place was packed. My childhood buddies, the Rhythm Doctors, warmed up the crowd just right -- in 1985, they were the hometown favorites. People loved them, and they loved seeing them open for JLH. John Lee hit the stage and burned the house down for 75 minutes. It was Boom Boom Boom the whole damn show. The entire place stood all night long and went wild. It was true southern hospitality toward a giant and a legend.
After the show, John Lee signed autographs for the few people we allowed backstage. Then it was decided that I would take JLH back to the Ramada, about five minutes away. Yes, I could do this! On the way out, JLH said he was hungry and asked if we could get a bite. Yes, I could do this! I took him to a Waffle House that was open late, and we had bacon, eggs and toast. Just to put the right spin on this, I was as big a JLH fan as there was, and there I was having a late breakfast with the Boogie Man. The conversation was way cool. He spoke of broken record deals, and how hard it was traveling in a van with six other guys. He was soooo cool. I told him I liked his song "Put Your Hand on Me," from the recently released Kingfish with Bob Weir album. He looked me square in the eyes and said, "I am on Bob Weir's album? ahaaaa." It was a great moment for me, to inform JLH that maybe some royalty check was, or was not, on the way.
We ate, and then we were on our way to the hotel that I used for all the bands. When I pulled up, I was just going to let him out and say goodbye. He said he was afraid he would get lost, and asked if I could get him to his room to make sure he got to the right one. (He was 68 at the time.) Yes, I could do this! I walked him to his end room on the next to the top floor and shook his hand, said thanks, and left. I never let on to him how much this thrilled me. I played it really cool. When his door shut, I danced the boogaloo all the way back to the car.
In Virginia they put historical markers on the highway, saying things like, "George Washington slept here." I can see the door of the exact room that I dropped JLH off at whenever I drive by that hotel. There should be a sign on the highway saying, "John Lee Hooker slept here."
As a side note, I remember that Roy Rogers (Shana Morrison's cohort now) was the guitarist that night, and also the business guy. I paid him $2,000 in fives and ones after the show. I also remember JLH's Coast to Coast Blues Band being a bunch of younger, cool guys who struck up a quick friendship with my buds, the Rhythm Doctors. They hit the bars together afterwards, and I was supposed to have joined them, but I didn't mind -- because I ate breakfast with the Boogie Man and boogalooed all the way home.
---
Links:
A simple, loving goodbye to the 'king of the boogie' --San Francisco Chronicle
The Boom Boom Room in San Francisco
---
Recommendations:

Endless Boogie w/ Steve Miller






©2001 by Phillip Poff
---
Phillip Poff is an elementary school principal, former theater owner, and a keeper of the flame.


---
Black and white photograph of John Lee Hooker is from the book Witness To the Blues