Selected Poems

by Janet I. Buck





Iced Petit Fours


"First you take a drink, then the drink
takes a drink, then the drink takes you."


-- F. Scott Fitzgerald (1896-1940)


Away. If asked, I'll say I prefer our ghettos,
les misérables in authentic voice,
not stewing in their burgundy.
Real graffiti, gutsy anger, glimpses
of our broken chairs that have no
seats when music stops.
The doorbell rings. I answer it.
We march like ants toward liquor's sap,
the only fluid dripping from the felled oak.
Iambic chants that might end wars --
a tribe of Indians erased
because of blood they wore on sleeves.
A family that could be pines,
a walking coffin in a bottle's neck,
hugging the binding noose
with every muscle we own.
A world of iced petit fours,
perfect squares, pasted in an unmet past,
frosted in their Cover Girl.

A quart of milk goes sour.
The children are bored,
motionless as a stopped clock.
Nimble pouring paring rite
learned before our alphabets.
Boxes of our wired jaws, decorated jail cells.
We had whole words, once upon clarity's time.
But the sonnets drowned and corks still float.
We have chosen this splintered oar.
These gloves that arbitrate our Hells.
Dolor's palette crusting in the evening sun.
Arrowed chins of fine Picassos
hiding old decaying teeth.
If asked, I'll say I much prefer
honest tilts of risky rivers owning grit,
marrow packed with silt and shame.
We are a room full of dull paintings hanging straight.





---


Pennies in a Petty Jar


Booze and chatter parry levelers of grief.
Eyes play hooky from the dark;
in between the lines of fog
and sips of artificial grace,
we lose the gist of orange juice,
its pulp and seed an entity to strain,
remove, bury in our Absolut.
Just once I'd like a sober meal --
where we aren't yellow rubber gloves
afraid to break a fingernail
that catches on unseemly truth,
where tears aren't silent acetone.
Borrowed smugness, false release.
Czar of liquor loads the dawn.
It rearranges furniture
but never scrubs a dirty floor.

Talking turns to stocks and bonds,
the rising price of paper towels.
Twists again in jagged knife
to runways in a fashion show.
Food grows cold and Mother asks
for just another little sip,
poison foison, grapes distilled.
Pennies in a petty jar
filling up the spreading void.
This corset for our sagging flesh --
this hill and Hell, a trip to take
on wings we trust because
they fly when we cannot.

Soapy confrontation stings;
I wash these goblets gingerly
as if they are a child's bangs,
leave you to your chosen rinse.
Wishing we could own our wrecks,
dig the glass from crimson wound,
make honesty a christening
of more than superficial lace.
I bite my tongue of fancy crystal heritage,
feel it snap like chicken wings.
Our tablecloths, a perfect press
of exit's trite menagerie.
This raw and bare, this sacred wood
that might have been a family tree
with leaves that ease a winter's ice.
I shake my fist at evenings
lost inside the blur
like trailers in a hurricane.




---


Sine Qua Non


Liquor picks our pockets.
I cannot recall an evening's moon
without its Cyclops biting dream.
Check the ground like homeless men
sift through alleys of the grit
for scraps of copper suns intact,
some wealth that might be hiding there.
I blame the bottle for our flaws,
their bobbins knotted at specious hour
whenever a cork or can is close.
You drift in clouds of sine qua non.
Tables set with solid silver
free of tarnish spoon a lie.
We're trading tears for Chardonnay
that could be crystal waterfalls.

We've stoned our voices crying out.
A beer stands tall, foamed in facile Ivory Soap.
On shopping trips, I wander down
a grocery aisle with rusted wheels,
marbles of forgiving weak
on rosaries with brittle strings.
Just once I ask if we could go without a goblet
packed with rivers born of toxins
poisoning a moment's earth.
The question thins like vapor trails
above the runways of our choice.
Linguistics of denial reign.

My books are coasters for a glass.
Their cherub bindings never broken by your eyes.
Their cords detached from renaissance.
We've pickled those affluent dawns
that come with blizzards, thunderheads.
My soberness is just a prude
in prunes of livers locked into their own demise.
This loneliness, a damp receipt I toss aside,
wrinkle in a bitter fist.
And we address our saddle sores
by riding into nothingness.



---





©2001 by Janet I. Buck

---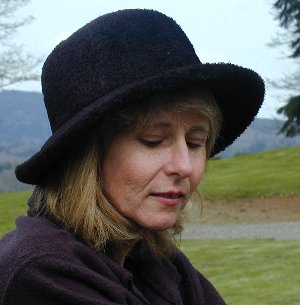 Janet I. Buck is a two-time Pushcart Nominee and the author of four collections of poetry, including Calamity's Quilt. Her work has appeared in hundreds of anthologies and journals world-wide. She is a recent winner of the Kota Press Anthology Contest, and her poem Acrylic Thighs was featured at The United Nations Exhibit Hall in New York City. See more of her work at her Web site.

---


"Sine Qua Non" was previously published in

Fluid Ink Press; "Iced Petit Fours" was previously published in Thunder Sandwich.