Don't send me no distant salutations
Or silly souvenirs from far away
Don't leave me alone in the twilight
Twilight is the loneliest time of day


Don't put me in a frame upon the mantle
Where memories grow dusty, old and grey
Don't leave me alone in the twilight
Twilight is the loneliest time of day


--"Twilight," Robbie Robertson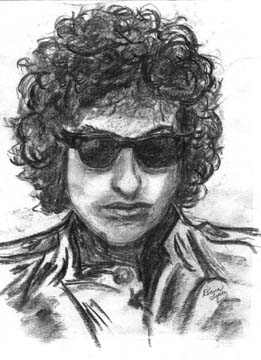 Someone once asked a rock musician, I forget who, why people like Elton John and the Grateful Dead and Neil Young and Tom Waits and Victoria Williams -- all certainly worthy -- have major, heavily promoted tribute albums dedicated to their songwriting, but Bob Dylan doesn't.
He thought about it for a second and then said something like, "Well, it's all a Bob Dylan tribute album, isn't it? Everything we do."
Without Dylan, the last thirty years of music would never have happened. No Phil Lesh saying, "fuck me" when he hears "Subterranean Homesick Blues" for the first time, then quitting his job as a postal carrier and joining a bunch of losers calling themselves the Warlocks. No Byrds. No Beatles moving beyond "she loves you, yeah yeah yeah." No Jagger-Richards. No Elvis Costello, no Clash, no Springsteen, no Madonna, for god's sake. No Erykah Badu, no Joni Mitchell, no Indigo Girls. No Steve Earle, no Robyn Hitchcock, no god-damned Garth Brooks.
A world without Dylan is a world in which rock and roll passed away sometime in the mid-60s, after the public got tired of Beatles ditties, and is now remembered as a 15-year-long fad by the same kinds of hobbyists who passionately collect '20s field recordings, '50s R&B, swing of a certain era, or Davis-era jazz fusion and still go to Joe Zawinul concerts.
Who knows, maybe that would have sparked Ken Burns to do one of his interminable, "official" projects about it:
Shelby Foote [after a long draw on his pipe]: "I'm very concerned that children aren't made to memorize "What'd I Say" in schools anymore. It dismays me to think of all these people wandering around without that rhythm in their brain. It was a more genteel time, a time when "a wop-bop-a-lu-bop" meant something."
Anyway, all this gravitas, and the weight of sorting out Dylan's phases and stages -- a forty-year recording career with an unusual amount of twists and turns, and vastly more than its share of astonishments -- has led to a lot of ponderous birthday tributes this year. (The man turned 60 on May 24.) There's a lot to say and a lot of people are going to say it.
The evidence is pretty clear that Dylan hates that sort of crap. He's spent his whole life as the subject of exhaustive explication and has spent that same life trying to avoid paying any attention to it. Some of the methods he used to avoid it -- cranky fundamentalist Christianity, or very heavy drinking and, for a while, almost complete inattention to his music -- haven't worked out so well.
Others -- he's a family man, and for thirty years wouldn't stop writing no matter what -- have been magnificent.
His most recent method -- to constantly tour and surround himself with a heavily Deadhead audience that knows what he did Then but mostly cares about what he's doing Now -- has been successful, too. He is as alive and connected as a performer as he's ever been. When he's at his best these days, which is often, he seems completely in the moment, exactly where he wants to be: with a sympathetic band playing at twilight to a bunch of people who care more about him getting to the heart of "Girl of the North Country" or "Not Dark Yet" than they do about anthropological issues like who played organ on "Like a Rolling Stone" (Al Kooper) or whether Dylan got booed for plugging in at the Newport Folk Festival (probably so).
It's not as if the analysts are wrong, though. Just maybe premature, and maybe not even grand enough in their assessments.
Dylan isn't just the man who made modern rock-and-roll possible, the man who put Picasso, Elvis, Robert Johnson, Woody Guthrie and Verlaine into a blender and made something good. He's probably the best and most important songwriter the country's ever had. Not just more important: better, more talented and more generous with that talent than Stephen Foster, or Gershwin, or even the great Ellington.
And get this: you can't go see any of those guys. They're dead. But Dylan has never been more alive. And he's never been more present. He'll play at your county fair, he'll play at the local U, he'll play in a castle or a bullring or a minor league baseball park. He'll get up there and smile and duckwalk and sing his heart out and if you pay attention, he'll touch your soul with reports from his long, weird journey.
Every Bob Dylan show is a trip into the human spirit, not just the good parts, but all of it, however messy, complex, difficult, funny, loving, passionate, sensuous, depressed, devout, lost and found. All of it is somewhere in Dylan's music and he doesn't hold back on sharing any of it.
Every Bob Dylan show is a birthday if you want to be born.
So put down the tributes and blow-by-blows, put down the tabloid garbage about his personal life, put down the music you've got on in the background -- quick, what is it? -- and use your browser to find out when he's coming around to play where you live. (Bob Dates is a good place to look.)
Then go see him. It is the twilight of a long life that we've been lucky to share, but there's still more than enough light.
---

A Guide to Recordings of Songs Dylan Likes to Sing These Days
There are more Dylan recordings than you can shake a stick at. Sorting your way through them isn't always easy, and there are plenty of "And then he recordedů" summaries available elsewhere, but here are some recommendations that will help you find the first versions of the songs Dylan chooses to play now, at his current shows.
They're all great albums, and they'll provide you a nice template for some of his material. You'll need it, because Dylan is famous, or notorious, depending on your point of view, for radically altering arrangements of his tunes. He's also adapted the jam band ethos of playing a different show every night: he's got anywhere between 80 and 100 songs he may play on a particular tour, and at least a couple of hundred more that might pop up out of nowhere.
One other thing: you can't have expectations about what he's going to play. After he did "Things Have Changed" at the Oscars, a song he'd been playing like clockwork all year, and of course after he walked away with the statue, he immediately dumped the tune from his repertoire for a few shows.
Released in 1997, widely considered Dylan's latest (and perhaps last) masterwork, you can find everything from this album at his shows, usually in chunks of two or three songs per. For the first couple of years after the album came out, especially prevalant were "Love Sick," "Can't Wait," "Cold Irons Bound" and "Not Dark Yet," though they've lately taken a back seat to "Standing in the Doorway." The bizarro extended opus "Highlands," about 12 minutes long at shows, has even made some appearances, thus creating the first (and hopefully only) time Erica Jong has been mentioned from a rock show stage.
While Dylan seems to be very gradually phasing out some of these tunes as reports come in that he's back in the studio for the first time in four years, this is the album that sounds most like a current Dylan show, and the album in which he returns to songwriting after a nearly 10-year absence, the first such dry spell of his career.
Besides serving as a de facto guide to where Dylan is now, it's also a heartbreaking and ennobling piece that hangs together all by itself. It's probably the best album anyone's made in the last ten years.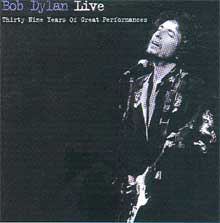 Bob Dylan Live, 1961-2000, Sony Music Japan



So far released only in Japan, this is a brief (16 song) live retrospective of Dylan's whole career, from the protean Dylan in 1961 doing a spectacular blues holler version of "Wade in the Water" to the last couple of years, from which Dylan does an excellent acoustic version of the gospel tune "Somebody Touched Me" and electric versions of fairly obscure but gorgeously arranged tunes of his own like "Born in Time," "Country Pie" and of course the Oscar-winning "Things Have Changed."
(Bob Dylan winning an Oscar: see, this is why fiction is so hard. Life outweirds it.)
Also included are the previously out of print and incomprehensibly bad version of Woody Guthrie's "Grand Coulee Dam" (with The Band, circa 1968), a nice electric version of "It Ain't Me Babe," from the never-appeared "Renaldo and Clara" soundtrack, along with much more widely available stuff, including a track with the Grateful Dead ("Slow Train"). There is nothing from Dylan's several tours with Tom Petty and the Heartbreakers. (Which is probably not a bad thing. Those tours coincided with perhaps the worst of Dylan's drinking and lack of interest in his own music.)
A nice, but overly expensive (as an import it's $30) way to hear some current live stuff and sample his older live material.

Blonde on Blonde, Columbia, 1966
Considered one of Dylan's best, from the three-year period in the mid-sixties when he busted things wide open, this is an album in which, as he puts it in "Visions of Johanna," "ghosts of 'lectricty howl through the bones of her face." It's a strung out, completely electric masterpiece.
Dylan is still performing many of the tunes from this one, especially set centerpieces "Leopard-Skin Pill-Box Hat," for which he always takes the lead guitar part, too, and "Rainy Day Woman, #12 and #35" (the "everybody must get stoned" song), which is almost always his last encore. Others in his current rotation include "Stuck Inside of Mobile With the Memphis Blues Again," "Visions of Johanna," "Just Like a Woman" and "Fourth Time Around." "I Want You" turns up now and then.

John Wesley Harding, Columbia, 1968



The title is, famously, a pun. Dylan's critics used to say he was affected because he dropped his G's from the end of so many words, like Woody Guthrie. (As in, "Hard Travelin'," "Goin' Down the Road Feelin' Bad," etc.)
So Dylan wrote a song about the outlaw John Wesley Hardin and put a G on the end of it. What the hell.
Anyway, this album contains perhaps Dylan's best known song, "All Along the Watchtower," still a very frequent contributor to Dylan setlists. This version, however, is completely different from the Hendrix version you probably know. It's pensive, acoustic and itchy. It's also different from how Dylan does it at shows; he's rarely, if ever, performed it live that way. The arrangement he uses now, he says, is copped from Hendrix, but to me, it sounds a lot more like the Dead's version. In any case, he's entitled.
The album is of a piece: acoustic and mostly very dark and yet somehow familiar and even country. Considered truly strange at the time -- this is when "White Rabbit" was a more typical rock song -- it now sounds much more familiar, the kind of thing non-mainstream singer-songwriters aspire to all the time these days. It's an album that would have Gillian Welch or Bob Weir or Shawn Colvin busting with pride.
Besides "Watchtower," Dylan's been performing "Drifter's Escape" and using "The Wicked Messenger" as a rocked out set closer. "I'll Be Your Baby Tonight," a deliciously sensual recline into a big soft feather bed with a bottle of wine and thou, even turns up now and then.

Blood on the Tracks, Columbia, 1974



If you were trying to convince a rock skeptic, a guy like Dick Cheney or anyone over a certain age from France, that the medium has some value, some resonance and depth, that it has poetry and soul, and you could pick any album in the history of the music to try to demonstrate your point, you'd have to be crazy to pick anything but this one.
It's Bob Dylan's best, it's the best singer-songwriter album ever made, the musicians -- two different groups, one uncredited because of some last minute retakes at Dylan's insistence -- are superb, and Dylan sings like a broken angel.
If you don't know it and don't have it, you're wasting your time reading about it. Just go get it.
Dylan performs the album's opening song, "Tangled Up in Blue," at almost every show and will occasionally perform just about everything else on the album at one time or another.
"Lily, Rosemary and the Jack of Hearts," which he does not perform, is a neglected masterpiece, an eight minute and fifty second western that should be studied in writing school. If you don't know how to tell a story after studying this tune, you're never going to learn.

Freewheelin' Bob Dylan, Columbia, 1962



Dylan has been through periods where he'll ignore the songs from this album, the one that made him big time, but he's back to doing four of the big five from it: "Blowin' in the Wind," "Girl From the North Country," "Don't Think Twice, It's Alright" and "Masters of War."
(The one he hasn't been doing is "A Hard Rain's a-Gonna Fall," which is dated, being inspired by the Cuban missile crisis and all, but which Dylan will no doubt revive at some point in such a way that it seems absolutely current and vital. Performing it in Africa in the context of the AIDS epidemic might be one way that happens.)
Of the five, "Girl From the North Country" is not considered "classic Dylan" in the way that the others are, but it gets the most heartfelt and loving reading at shows.
Bringing It All Back Home, Columbia, 1964



If you owned this as a record, you know that the first side is the electric side -- starting with a mainlined hit of speed, "Subterranean Homesick Blues," and concluding with the stoned goof, "Bob Dylan's 115th Dream." The second side is the acoustic side, the jangled, post-folk collection of four long songs that starts with "Mr. Tambourine Man."
Most of the songs from this one are still around from time to time at Dylan shows. Besides "Mr. Tambourine Man," you might hear "Maggie's Farm," "Love Minus Zero/No Limit," "It's All Over Now, Baby Blue," "It's Alright Ma" and even "Gates of Eden," which sounds like a very odd song when played at the Coca Cola IBM Mega Corp Amphitheater.
"She Belongs to Me," a gorgeous meditation on a woman who is way past the narrator's ability to understand, except in the sense of understanding his own helplessness before her, is not showing up at Dylan's shows this year but will again someday.
The songs from this outstanding Daniel Lanois- produced album were a staple of Dylan's shows for quite a while, but disappeared from his repertoire earlier this year. One of them -- "Where Teardrops Fall," a wonderful waltz -- just made a comeback, and this material is too good and Dylan is too fond of it for them to go away for long.
There are a couple of missteps on the album -- "Disease of Conceit," "What Good Am I?" -- but everything else is strong and has inspired brilliant performances from Dylan in the last few years, particularly the harrowing, "Man in the Long Black Coat" -- it's too bad Johnny Cash in his prime couldn't get a hold of it -- and the gospel, "Ring Them Bells."
Trivia: "Everything is Broken," one of Dylan's better modern jam tunes, is the first song Neil Young played in public after the 1989 Loma Prieta earthquake.
---